Rent a chalet in the Pyrénées-Atlantiques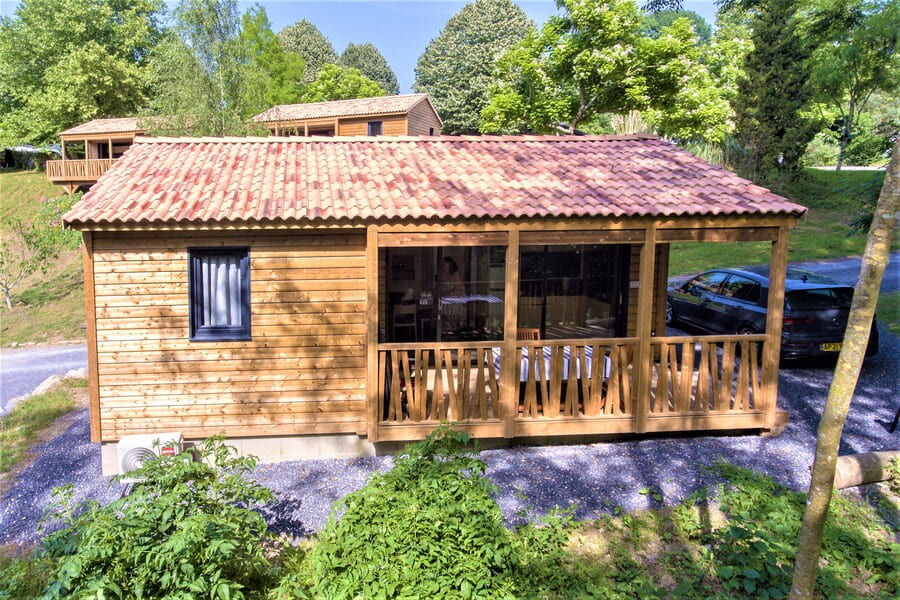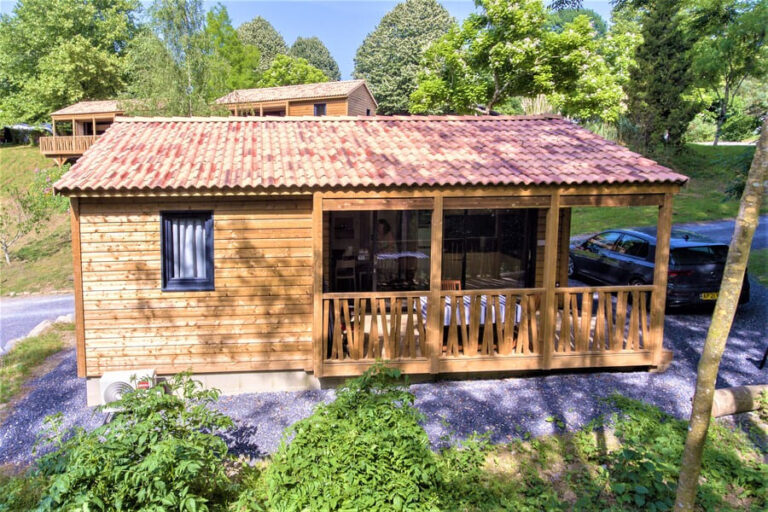 PREMIUM CHALET 6/8 PEOPLE
Discover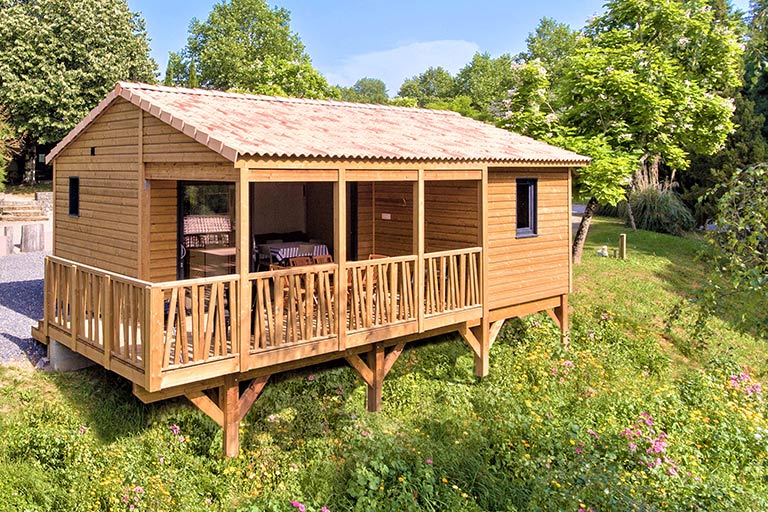 Premium Chalet 4/6 PERS
Discover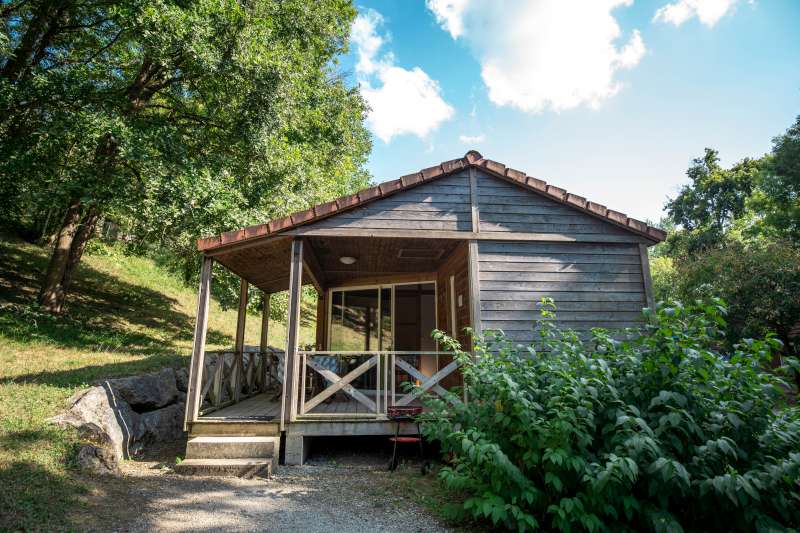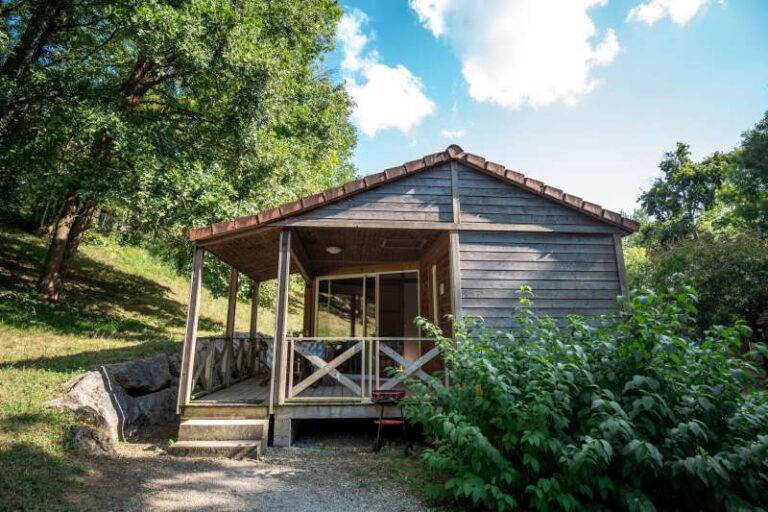 Chalet Grand Confort 4/5 pers
Discover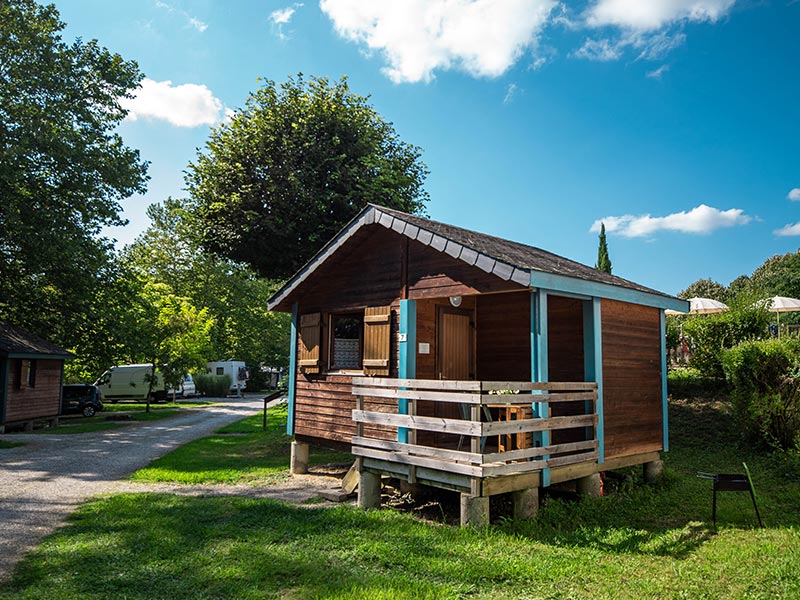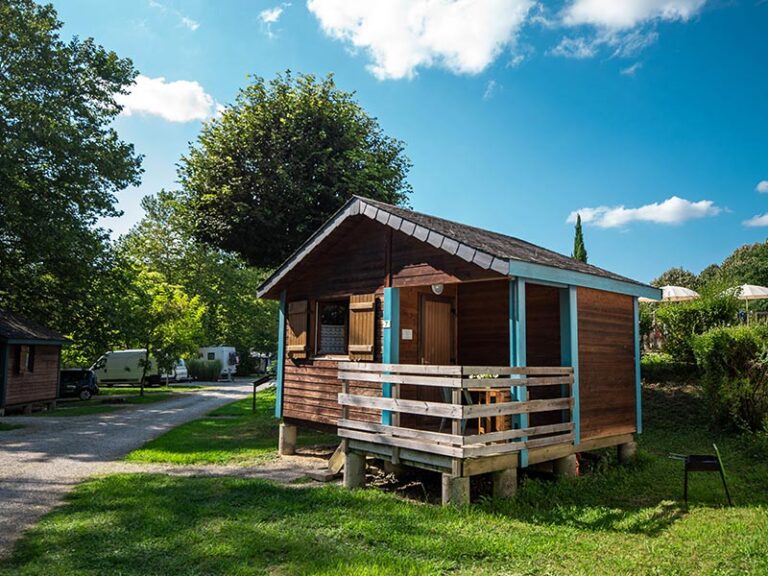 Classic Chalet 3/4 pers
Discover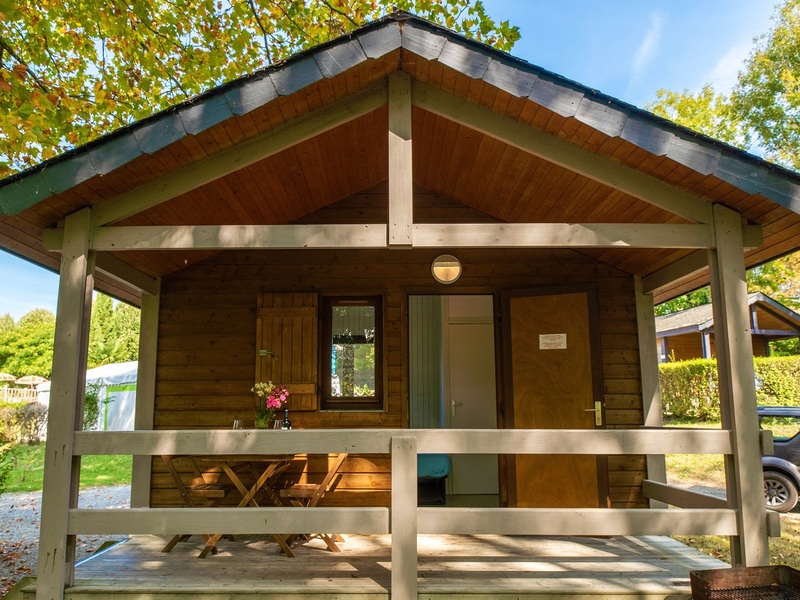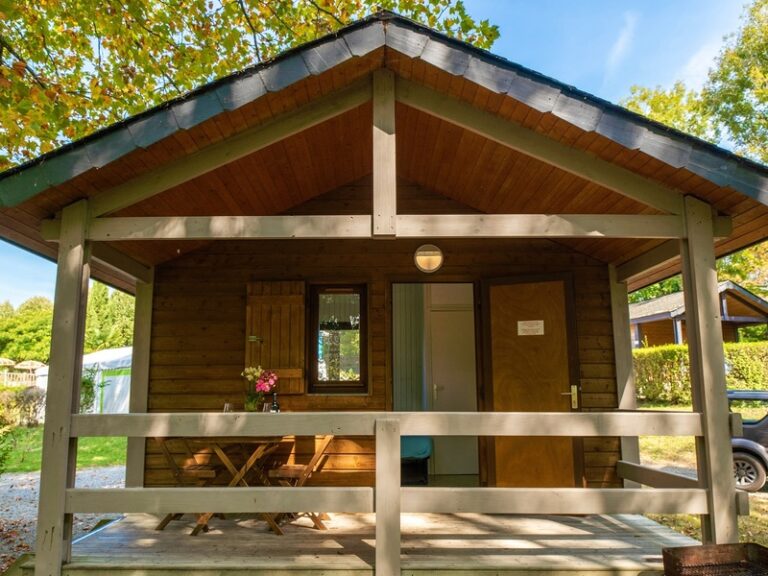 Classic Chalet 2 pers
Discover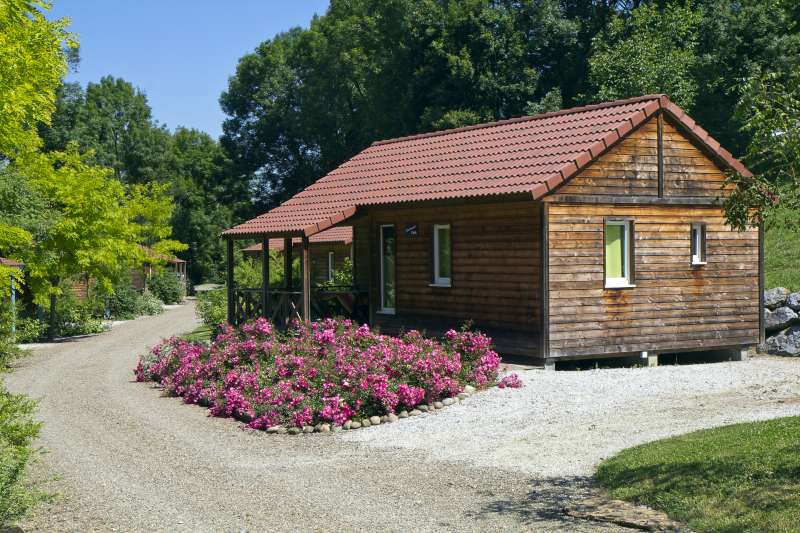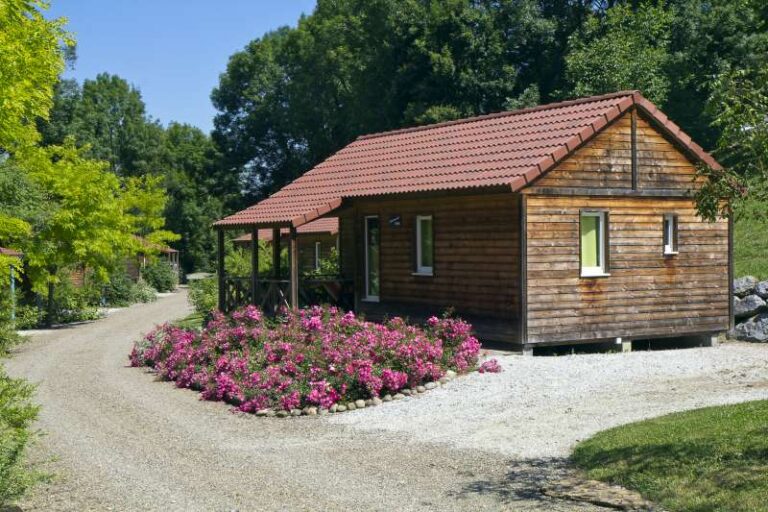 Chalet Grand Confort PMR 4/6 pers
Discover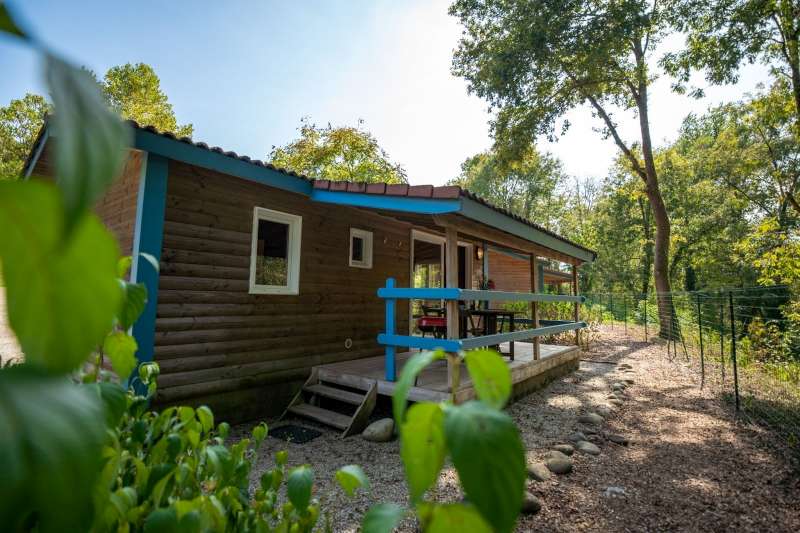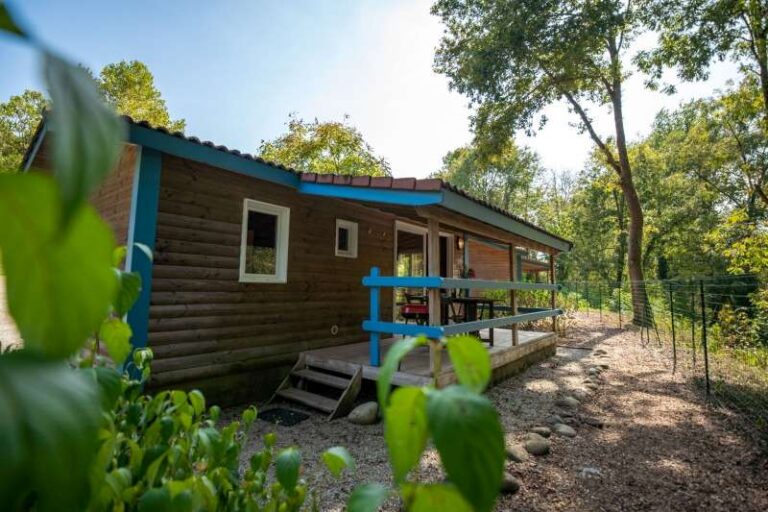 Chalet Grand Confort 5/6 pers
Discover
Range of chalets to rent in Navarrenx
Classic Range
Come and discover chalets ideally located in the Pyrénées-Atlantiques, west of Pau and near Oloron-Sainte-Marie.
The rental chalets in the Classic range are all made of wood and can accommodate from 1 to 4 people. It is the perfect combination of camping, nature and comfort. You will find comfortable beds, a fully equipped kitchenette, toilets and a shaded terrace with barbecue. Clean showers are available in the common sanitary facilities.
A little extra, you will be lulled by the sounds of the Gave d'Oloron (river), situated below your chalet at the campsite in the Pyrénées-Atlantiques.
Discover also our lodges tents, atypical rentals, which will seduce you by its natural aspect. If you prefer to stay in a traditional campsite, our quality pitches in the comfort or grand comfort range are ideal.
High Comfort Range
We offer a range of Grand Confort chalets to rent for 4/5 people or 5/6 people with 2 bedrooms at the best rates. Live in the heart of nature in a cosy wooden chalet with a large terrace and barbecue. From your terrace, you will be able to see the magnificent Gave d'Oloron, (river) below your chalet.
Ideal for spending green holidays with family or friends in an authentic atmosphere, the chalets are composed of two bedrooms, a large equipped kitchen (microwave, fridge, crockery), a living-dining room with a large bay window completely open to the outside. Your chalet could be the starting point to discover Navarrenx, Bearn, the Basque Country and the Pyrenees.
Premium range
The Premium chalets have 2 bedrooms and can accommodate 4 to 5 people. These chalets are in perfect harmony with nature and offer an indoor-outdoor lifestyle thanks to their large panoramic 3-panel windows and their outward-facing kitchen. Their large covered terrace becomes a living room in its own right. These brand new chalets (2022) have all the necessary comfort for your well-being. The chalets are composed of two bedrooms, a large kitchen equipped with oven and dishwasher, a TV-dining room with a large bay window completely open to the outside. These chalets are equipped with air conditioning and heating. A perfect chalet to enjoy the nature and to discover the Bearn, the Pyrenees and the neighbouring Basque Country.
Services for rented chalets
The little extras:
Location: the chalets are ideally located in Navarrenx, close to all the shops (more than forty shops in Navarrenx). You can do everything on foot or by bike. It is also an ideal location if you wish to combine sea and mountains: visit the Basque coast and hike in the Pyrenees.
Chalets on the banks of the Gave d'Oloron (river).
Sheet rental service for the chalets (flat sheet, fitted sheet, pillowcase).
A welcome kit is available in each chalet and includes: a vegetable sponge, 1 garbage bag, Ecolabel certified multi-purpose cleaner, as well as ecological washing-up liquid and matches.
Reversible air conditioning in all our Grand Confort chalets.
A barbecue on your terrace is at your disposal to enjoy a good barbecue with family or friends.
Free, high performance Wi-Fi in every chalet. A new facility has recently been installed to provide you with a better connection.
Laundry: a launderette is available at the campsite with a high capacity washing machine, a tumble dryer and an iron and ironing board.
Discover the other offers of our campsite in Navarrenx
Opinions from the chalets!
Carole

Great campsite, quiet and relaxing. Very pleasant and friendly staff. The chalets are very comfortable.
Bertrand

We had a wonderful stay despite the rather rainy weather and were given a warm welcome. Chalet 10 proved to be perfect: its good wood construction gives a very cosy atmosphere. Very well thought out facilities. We will be back.
Sylvie

What a wonder to be woken up by the gentle sound of birdsong. Our stay in the chalet went very well, so it was too short! I hope to return soon! Thank you Clara for your welcome and your kindness. See you soon…